This story was originally published on salmonlife.org, an Alaska-based storytelling initiative hosted by The Salmon Project. Writing & photography by Lee House (done at Element Agency).
Massive limestone peaks vault from the hills beyond the bow of Don Hernandez's skiff as he heads for the shore of Suk Dáa Bay. His friend, Elsa Sebastian, hops out and hefts her trekking pack onto the beach. In true fisherman form, she suits up, pulling her Grundens bibs over her Xtratufs before setting off with her hiking partners.
The grasslands sway and flicker with drops of dew as Elsa looks towards the velvet cliffs of old growth forest surrounding her on the northern end of Prince of Wales Island (Taan). Ravens, crows, gulls and eagles soar in an orchestra of bird calls. Spawning salmon tremble in the rush of the nearby stream.
The awe of the land is palpable.
Elsa, who typically runs her power troller through the summer, decided to forfeit the fishing season this year to pursue a several-hundred mile trek through the forests of her home island. She's on the final leg of her trip before finishing in Point Baker, the fishing village where she grew up. Don, a family friend, mentor, and fellow fisherman, is running boat support as Elsa completes this last section.
"I've been coming to this spot for the last forty years or so," Don says as he looks at the stream teeming with chums. "I hunt here. I explore here. I come check the fish runs. It is just such a beautiful and rich habitat." Don feels it is important to lend a hand. "I've known Elsa since she was born," Don says with a laugh, "my son and her grew up together. My wife and I are close friends with her parents. We're all family."
Point Baker is home to a tight-knit handful of people—most of whom fish locally about five miles from town. Boats are prerequisite to life here. Everyone lives off the road system with homes shouldered up into the forest and floating on the tides. Some live aboard their vessels.
Elsa, who was recently selected as an Alaska Salmon Fellow, was raised in rolling seas and ocean breezes aboard her parents' wooden troller. By all accounts, she has spent every summer of her life on the water. But this summer, she decided to get to know the land the way she knows the sea—by exploring it.
"When you grow up in a place where vast forests lead straight to streams and coastlines, it doesn't take long to realize how connected it all is," Elsa says in regards to her temperate rainforest home.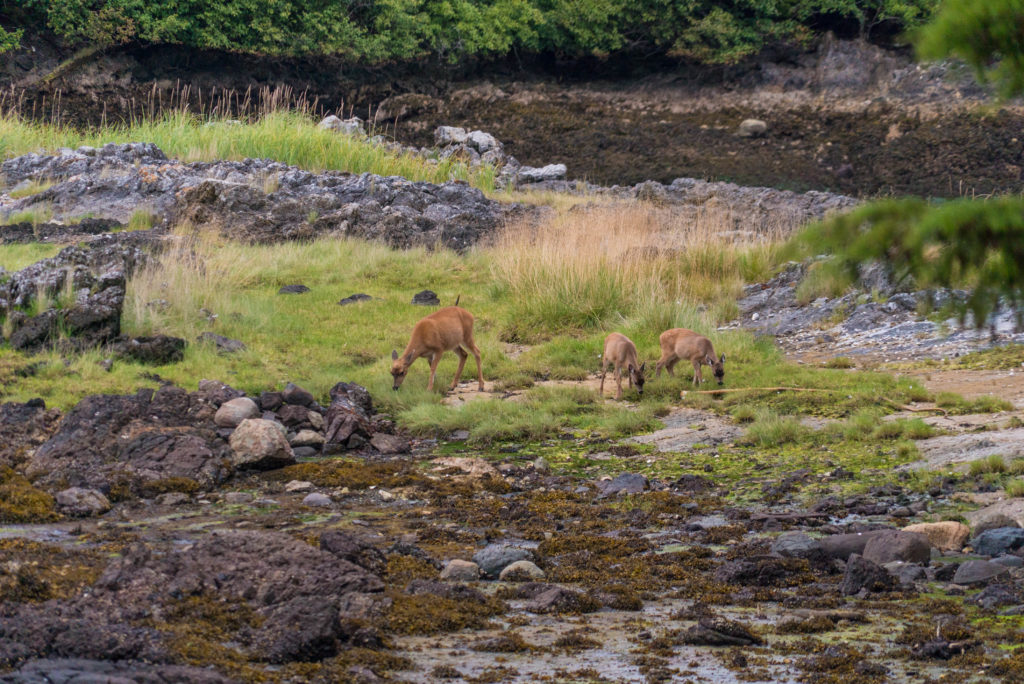 Earlier in the winter, Elsa sat with a map of Southeast Alaska saturated by the green of our country's largest National Forest, the Tongass. This particular map had orange outlined sections all over it. "Those are potential selections of House Bill 232," Elsa explained with concern, "a bill proposing that about two million acres of National Forest land be transferred to the state for possible timber production," she paused. "That to me — to all of us in Point Baker — would be a tragedy," Elsa explains. "This is a place that has been so heavily hit by timber production already. I want to hike to bear witness to what remains of this unique island."
Today, as Elsa reaches her trek's completion, there is a sense of clarity.
"A lot of people look at the forest and all they see are the trees. They see the value in the tree," Don explains. "What Elsa's doing is showing that it is more than just the tree because for us here, it's our entire livelihoods. We see the value of the wildlife, the scenery, the climate benefits of an intact forest, and the value of healthy, wild fish runs."
It is those livelihoods beyond the trees—the fisherman's draw to those fish runs—that ultimately concludes the trek. In the coming day, Elsa returns to her boat to consider heading out to troll the last murmurs of the coho pulse. Don wakes early and heads out for the gillnet opener just north of town. He motors his vessel, the F/V West Rock, in the early morning light to Sumner Strait.
Radio chatter in the wheelhouse intermittently narrates the scene. Don easily recognizes the voices that come in over the receiver. He looks out over the fleet dotting the misty horizon. "It's kinda a small town out here," Don says. "We're all family by one way or another."
Don's son is in the lineup too. He operates the sister vessel to the West Rock, the F/V East Rock. Don motors over to him and gets the report that it's been a slow morning thus far. The day is paced with Don and his deckhand setting the net, drifting in wait, motoring over to his son to chat, and pulling in modest yet respectable hauls.
"We're still catching a lot of fish. I'm still making a living, but since I've been fishing here, there have been changes." Don says, "The fish are not the same. It's just different." He continues, "Maybe it's logging, maybe it's hatcheries, or maybe it's something else."
The subtle shifts are concerning to Don, but when speaking to someone from Point Baker, there is always an underlying optimism bred from rural resilience. "Here you're on your own to a fairly large degree. We're out here in a remote spot. We depend on being able to make a living, being able to stock our shelves by harvesting our own fish and hunting deer. It's all just been a really satisfying way of life." Don reflects, "I feel really fortunate to be here."
Back in Point Baker, Don walks a couple minutes on a forest path from where he docks the West Rock to the other side of the tiny island where his house sits looking northwest. He carries two sockeye that will be dinner as others pick greens from the garden. Don stokes an alder fire on the shore and gets to filleting and seasoning the fish.
"Food is pretty simple here. We eat salmon everyday." Don says with satisfaction. "The only time we don't is at the end of the fishing season when we go out for a celebratory burger."
He kicks back before saying one last thing, "this is what it's all about right here," and quietly looks out towards the sea. Otters and whales adorn the quiet evening, alder smoke keeps the flies at bay and bright salmon flesh cooks to a sizzling pastel. Through Elsa's hiking and Don's fishing this summer, one thing is clear: it is all connected. And it's worth preserving. For a brief moment, Elsa and Don soak up what it feels like to be home.
View more of Elsa's Tongass advocacy here: laststands.org